Create a digital hotel. Delight your guests with personalized contactless experience.
Use the latest digital hospitality tech to run an efficient, sustainable business, while providing a high level of service and preserving a personal touch.
Get started
Connect your current tech stack, connect with your guests
Perfect your guest interactions
Build relationships. Be available, helpful and proactive.
Custom automations 
Automate predictable cases to reduce operational costs and free up your team for remarkable hospitality service.
The latest AI technology 
Let our AI follow up on inquiries for the highest conversion. Never miss a booking or any guest message! Prevent negativity with our sentiment recognition capabilities.
Robust unified inbox 
Manage  all messages coming through Airbnb, your website chat, email, text messages, or Whatsapp in one place with our Unified Inbox.
Personalization 
Personalize interactions with your guests based on the data you collect. Use your guests' preferences and purpose of stay to identify opportunities for tailored services and upsells.
Set the rules to serve your guests and your business
Deliver lifetime memories & drive revenue through experiences
Some examples of what you can do. Customize almost anything! 
Our Experience Lab operates on "If this then that" principle, connecting the dots for the complete seamless digital experience. Set up conditions to create memorable moments for your guests and unlock new monetization opportunities with one-click upsells. 
Early check-in, late check out, room upgrade, breakfast, pool heating, airport transfer, electric cars, tours. You name it – our XLab builds it. 

Prioritize the conversations that need your immediate attention. Our AI will let you know when alarming triggers appear.

Provide seamless, quick and contactless property access on your conditions, built in our Experience Lab, facilitated by our smart lock partners.  

Increase your rankings on review sites and OTAs. Our AI identifies sentiment in guest communications and sends review reminders only to the guests who had great experience.
Create seamless digital journeys
Your own branded guest app for complete digital experience from booking to check-out and beyond
Set your guest for a joyful stay without overwhelming them and your staff 

Verify your guests in a convenient, quick and friendly way

Collect important guest data to personalize their stay and build relationships

Allow a seamless remote check-in and free up your team to provide a great service  

Offer personalized one-click upsells to create memories and maximize profit  

Provide a quick and easy way to learn about your property with customized guides 

Drive repeat business with campaigns and condition-based timed messages
Get your Boarding Pass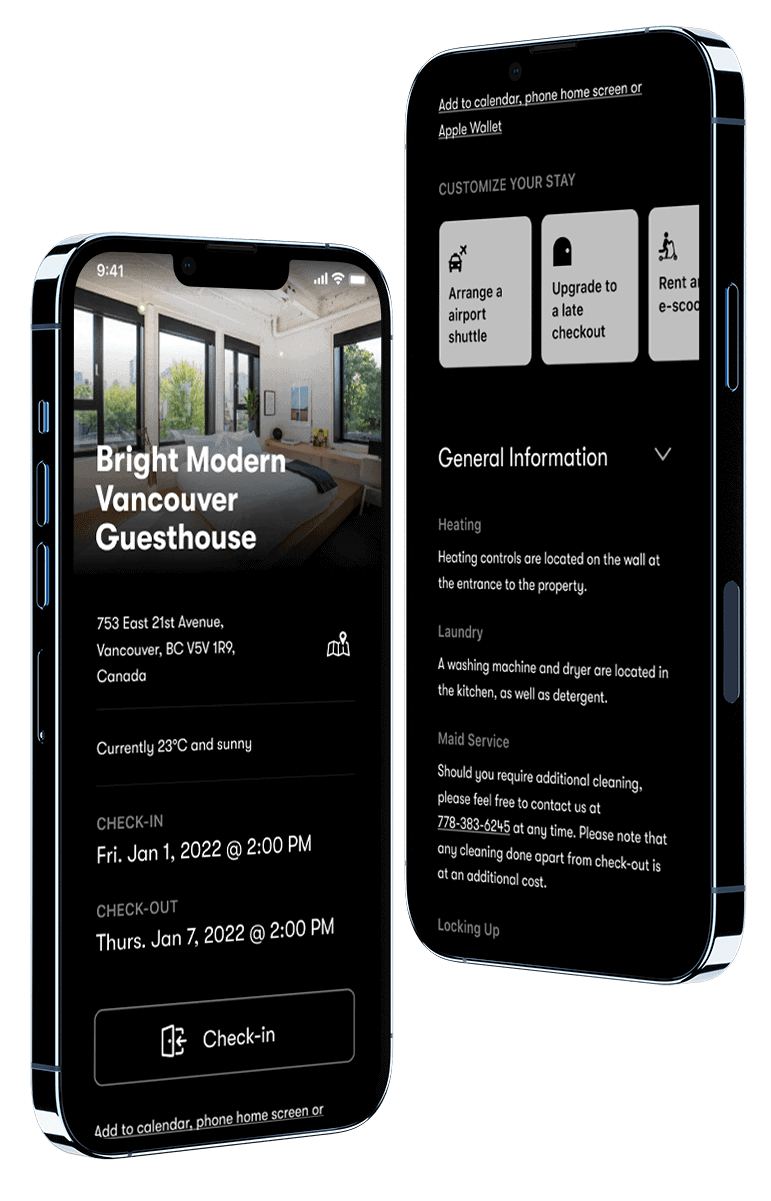 Your brand
Showcase your brand with your colours, logos, graphics, your recognizable voice and even social media links.
Verification and check-in
Simplify the verification process for your guests and guide them through the check-in with detailed step-by-step text, photo and video instructions.
Upsells
Offer additional services available with a tap of a finger right from the guest app. Personalize offers based on specific guest data and preferences.
Guides
Provide a quick and easy way to learn about your property, neighborhood, amenities, recommendations, all of the above or anything you want with custom guides.