Create a digital vacation accommodation. Differentiate and grow, providing the best experience all along your guest journey
Get started
Connect your tech stack, connect with your guests
We're a property manager's dream
Enso Connect is a guest experience platform that empowers hospitality businesses to automate all their guest management processes.
Using AI, smart locks integration, and 'if this than that' logic, Enso Connect personalizes and simplifies guest interactions at all stages of customer journey. From inquiry to check-out and all the way to return booking.
We're great for property managers and owners of professionally managed short term rentals, who want to grow the business and build a hospitality brand without adding on labor costs.
Book a Demo
The benefits
Reduce operational costs with customizable automation
Increase guest satisfaction with seamless experience & personalization
Increase inquiry to booking conversion with Artificial Intelligence
Eliminate risk by guest verification, making sure your guests are who they say they are
Grow a brand with white labeled guest interactions
Create new monetization opportunities from upsells [early check-in, amenities, etc.]
Drive more revenue from direct bookings with guest marketing
How we elevate your guest experience
Communication
Communicate with guests through our advanced unified inbox via Whatsapp, email, SMS, or Airbnb messages.
Create automatic rule based scheduled messages, or let our AI answer the questions for you. Intelligently collect sentiment and context of each conversation – unlock data for each of your customers. Prioritize communication based on sentiment, revenue generated by customer, stage of booking and more.
Client case study
automated communication for 25k+ guests!
decrease in response time (56min to 2.5min)
increase in inquiry to booking conversion
Experience lab
Our experience system functions on 'if this, then that" principle, allowing for full customization
Digitally facilitate quick and easy
Contactless check-in/check-out with smart locks
Support upsell experiences on demand
ID verification & background checks with partner integrations
Agreements & signatures processing
Deposit collection, and much more
If the sentiment of the conversation is positive then remind the guest to leave a review
If the booking channel is VRBO, then collect front and back of ID
If it's a last minute booking, then provide immediate check-in instructions
Your guests can enjoy the high standard service of a hotel with the personal touch of a homeowner.
Guest's vacation budget
Monetize the 75% with rental upsells experiences
Your own branded guest app for complete digital experience from booking to check-out and beyond
A web-based guest app for vacation rentals and boutique hotels, that facilitates all interactions in the guest journey from booking to check-out and beyond.
Boarding Pass is helping property managers and owners create a seamless, step by step digital experience, all while opening up new monetization opportunities, showcasing the property, building a unique brand, and collecting guest data.
Done by simply sending a link to guests prior to check-in.
Requires no app download from the guests.
Get your Boarding Pass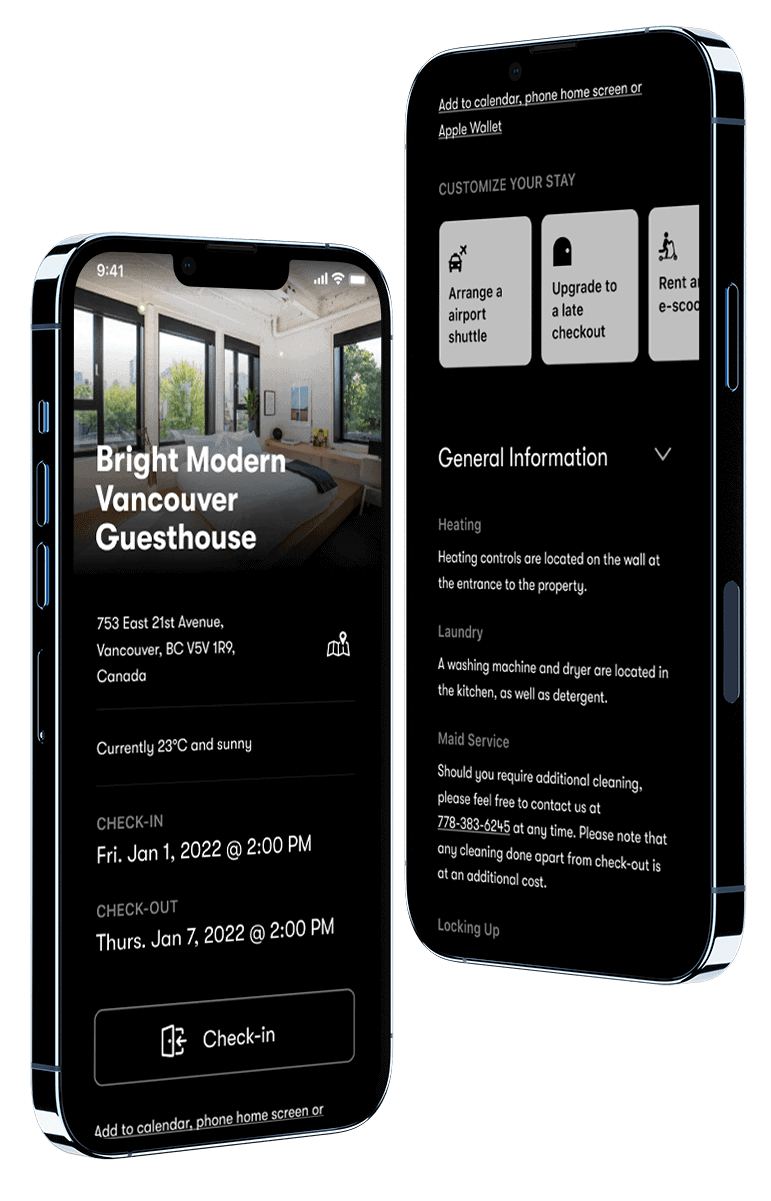 Your brand
Showcase your brand with your colours, logos, graphics, your recognizable voice and even social media links.
Verification and check-in
Simplify the verification process for your guests and guide them through the check-in with detailed step-by-step text, photo and video instructions.
Upsells
Offer additional services available with a tap of a finger right from the guest app. Personalize offers based on specific guest data and preferences.
Guides
Provide a quick and easy way to learn about your property, neighborhood, amenities, recommendations, all of the above or anything you want with custom guides.
Our numbers at a glance (in less than a year)
"Jetstream has partnered with Enso Connect to provide enhanced guest communications, answering over 100,000 messages for hundreds of hospitality partners and tens of thousands of guests. Enso Connect provides scalability and significant time savings. Their automation features provide our guests with a fast seamless response to booking inquiries, guest information, and satisfaction surveys."

Emmanuel Lavoie

CEO of Jetstream
"This is not a nice-to-have system, this is a MUST. With Enso, we've managed to increase our inquiry to booking conversion by over 20%, and all in an automated way!!"

Alex

Property Manager 100+ listings