Webinar Description
AI messaging, online check-in, digital verification, smart devices –  enter the world of smart and seamless guest experience, where technology meets hospitality to create memorable stays. Join a transformative discussion on how to craft an unparalleled guest experience, when managing a large portfolio of properties. Discover how Jetstream's integrated tech solutions not only enhance guest satisfaction but also streamline operations and maximize revenue for hundreds in the industry.
Webinar Speakers
Francois Gouelo
As the Cofounder and CEO of Enso Connect, Francois has been at the forefront of the intersection of technology and hospitality. He will be moderating the session, ensuring all questions from the audience are addressed.
Emmanuel Lavoie
CEO of Jetstream Hospitality Solutions – With two decades in management, entrepreneurship, and investing, Emmanuel Lavoie helms Jetstream Hospitality Solutions, a pioneer in short-term rental solutions. Leading a global team, they harness technology to elevate hospitality. Emmanuel, with a rich background in Engineering and Proptech, offers invaluable insights to hospitality professionals.
Katrin Humal from Minut
Katrin, with a tech background since 2016, specializes in automating workflows and amplifying impact. She joined Minut's product team in 2022, venturing into the STR industry to champion responsible travel. Hailing from Estonia and now thriving in Sweden's Malmö tech hub, she relishes the outdoors and the art of baking cinnamon rolls.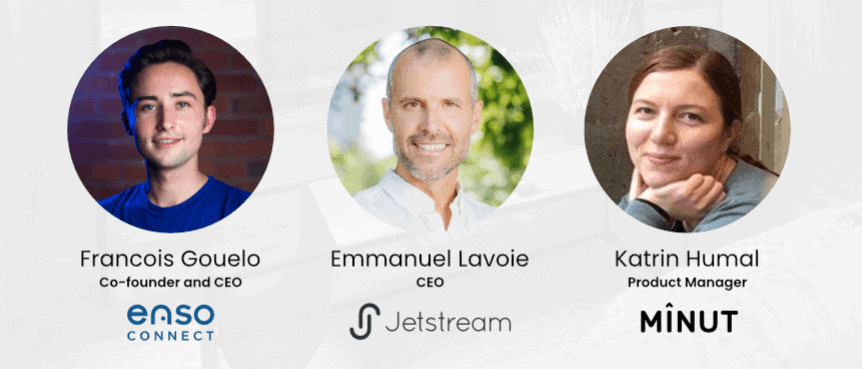 What is Smart Guest Experience
In hospitality, "smart guest experience" refers to quickly understanding and giving guests what they need exactly when they need it. This also means leveraging digital tools and data-driven insights to meet guests' expectations. More and more hospitality professionals use smart tech tools to ensure their guests have seamless and memorable stays.
Implementing smart guest experience strategies is essential for scaling hospitality businesses, making them more efficient, profitable and competitive.
​Smart Guest Experience Experts on the Webinar
We had three hospitality industry experts, sharing their insights on creating an exceptional customer experience in vacation rentals. Each of them introduced how their companies help vacation rental professionals create, configure and monetize their guest experience in a smart way.
Emmanuel Lavoie introduced Jetstream Hospitality Solutions as a full-service PMS (Property Management Systems) that started as a channel manager. They offer a range of services, including a bumilt-in call center, revenue management team, content and listing optimization, and payment processing. They provide all these services under their partners' brand in a white-label format.
Katrin Humal introduced Minute as a co-hosting platform that helps care for homes, guests, and the community. They offer a sensor that monitors and alerts about noise, occupancy, cigarette smoke, motion, and temperature in rental properties. This helps prevent parties, enhance the guest experience, and protect properties. Privacy is paramount, and nothing is filmed or recorded.
Francois Gouelo introduced Enso Connect as a guest experience platform, helping vacation rental businesses digitize and monetize their guest experience. The platform provides AI unified messaging, smart automations, with conditions based on guest data collection, guest app, upsells and more. With IoT integrations, security partnerships, Enso-connected users can build custom guest journeys, tailored to their unique needs.
Key Growth Drivers for Vacation Rental Business
Emmanuel shared his vision of the key drivers for growth in vacation rentals and smart hotels. He presented it as a combination of exceptional hospitality, great marketing, operations, trust and security, data and third-party partnerships.
Exceptional Hospitality
The purpose of short-term rental and hotl industry is to deliver exceptional hospitality and guest delight. This is reviews from major OTAs can give a real-time sense of how a business is performing. If you can't consistently deliver exceptional hospitality and get great reviews, you will not be able to sustainably grow this business.
Operations
If you have from one to five units, you probably don't need much technology to start with. As businesses scale, they need tools, technology, processes, and systems. This includes having great cleaners, keyless entry, noise and party monitoring like Minut, and structured data management. This needs to be topped with seamless and quick-responding guest communication.
For example, Jetstream mandates for all partners to have contactless access, as it removes the friction of not finding the keys under the doormat, etc. They are also big fans of noise and party monitoring technology. It helps not only to nip parties in the bud, but also backs up Airbnb damage or insurance claims. It's important to have the data.
Marketing and Distribution
Emmanuel highlighted the importance of multi-channel distribution and not relying solely on platforms like Airbnb. A good PMS and channel manager are essential for multi-channel distribution. While many hosts rely heavily on Airbnb for bookings, at Jetstream, only 55% of our thousands of monthly bookings come from Airbnb. The rest are from platforms like Vrbo, Booking, Home2Go, our own LeafTown.com, and partner websites. This shows the importance of diversifying channels to capture a broader audience.
Content, Pricing, Photos, Reviews (CPPR)
Emmanuel shared that in Jetstream they have the acronym CPPR: Content, Photos, Pricing, and Reviews. Following this approach is the best way to stand out from the competition.
Content: Concise, engaging, and to the point.
Photos: Only professional, well-edited images that stand out.
In Airbnb's early days, they struggled with reservations despite many listed properties. To boost bookings, they invested in sending professional photographers to capture high-quality images of the properties. If competitors have top-notch photos and you don't, you'll rank lower in guest preferences or attract budget-conscious travelers.
Pricing: Use dynamic pricing software, like Wheelhouse, but it's also essential to understand revenue management for promotions and discounts.
Reviews: When the first three are done right, positive reviews follow.
Mastering these four elements ensures consistent success against competitors.
Trust and Security
Katrin from Minute highlighted the significance of trust and security. Hosts need to trust their guests, and vice versa. Minute's monitoring system helps deter problematic bookings and ensures guests and neighbors have a peaceful experience. The system alerts hosts about potential issues, allowing them to address them promptly. This fosters a sense of security and trust within the community, promoting growth for the rental business.
Using tools like Minut in listing descriptions has led to fewer problematic bookings for hosts. Data from Minut devices shows that about 90% of noise incidents are resolved within 20 minutes, preventing them from escalating. This not only ensures neighborhood peace but also provides guests with peace of mind. They can enjoy without worrying about unintentionally causing disturbances. This proactive approach enhances the guest experience, turning potential negatives into positives. It also fosters trust within the community, ensuring they feel secure and are more accepting of short-term rentals in their vicinity, benefiting your business.
Centralizing Data
For any size vacation rental business using a PMS or a tool like Jetstream, you'll need to hire reservation agents. You might also hire offshore VAs for additional time zone coverage. It's crucial to have your data centralized and easily searchable, especially for property-specific questions outside the PMS. For example, what is the check-in process or where is the remote. This structured data is essential not just for your agents but also for current and future AI models.
Emmanuel discussed the need for a centralized database for efficient business operations. While Jetstream initially used Notion, they are working towards integrating more data capabilities within their own tool. This centralized data will be more accessible for an AI-powered chatbot and other third-party tools.
Different operators use various tools to centralize their knowledge base, ranging froam Google Docs to Notion, High Table, and ClickUp. The key is to build the database around the team's needs while ensuring it's centralized for future scalability.
Tools like EnsoAI can process various data, including PDFs. While many operators centralize data using platforms like Notion or their PMS, EnsoAI prefers to internalize this data, recognizing that each operator has a unique knowledge base system.
Crafting Exceptional Guest Experience Using Technology
​
Transparency with Guests
​Katrin emphasized the importance of being transparent with guests about the technology being used. There's a growing skepticism towards technology, especially AI, in society. It's essential to demystify it by explaining its functions and limitations. By being transparent about the technology used, hosts can build trust with guests. Many guests, when informed about devices like sensors, understand their purpose and see them as enhancing their stay. This transparency not only boosts guest confidence but also showcases the host or property manager's professionalism. Such professionalism can elevate the brand, leading to increased trust, future bookings, and brand recognition.
Automation and Standardization
Automating tasks and standardizing situations can help hosts focus on non-standard opportunities to enhance the guest experience. For instance, using sensors to monitor temperature ensures guests' comfort and helps in cost-saving. Motion sensors can detect guest arrival, triggering welcome messages.
As businesses grow, they often grapple with data scattered across various silos, making it challenging for frontline staff to access information swiftly. By standardizing data sources and processes, businesses can achieve consistent high-quality outcomes, like five-star reviews. A key to successful standardization is driving processes with a primary KPI. Instead of creating complex systems that can break, focusing on a central performance metric ensures clarity and efficiency. This approach, combined with leveraging technology, ensures streamlined operations and consistent guest satisfaction.
Data-Driven Decisions
Using data from sensors and other sources allows hosts to customize and personalize the guest experience. This data-driven approach can transform potential negative situations into positive experiences, fostering collaboration with guests
"Essentially, vacation rentals are like dispersed hotels without on-site staff. Without a concierge to address issues, such as neighbors complaining about noise, the right technology becomes crucial. It ensures guests have a seamless experience from arrival to departure.

Francois Gouelo

Cofounder and CEO of Enso Connect
Balancing Automation and Human Touch
The panelists agreed that while automation can handle many standard processes, there's a need for personalized human interaction. Katherine mentioned the potential of using technology to identify opportunities for personal touches.
Emanuel added that tools enhance the human touch, allowing businesses to focus on hospitality rather than mundane tasks. He also shared that going keyless hasn't impacted the human touch aspect of their service.
Smart Guest Experience Accommodation Example
As a great example Emmanuel shared the transformation of High Street Townhouse, a project in Manchester involving the three companies. This 19-unit apart-hotel was previously managed by a traditional company that went under. The on-site manager, Allison, remained consistent through the transition. Before Jetstream's intervention, Allison handled routine tasks like collecting credit cards and driver's licenses from guests. Now, with Jetstream's advanced technologies, including Minut and Enso's keyless access, Allison focuses solely on enhancing guest experience. The result? A staggering 95% occupancy in September and rave reviews about Allison's hospitality. This shift not only improves guest experience but also opens avenues for new ancillary revenue streams, like upsells. It's worth noting that guests often allocate only about 25-30% of their budget to accommodation, leaving great opportunity for additional services.
Upselling and Enhancing Guest Experience
Upselling can be a valuable tool for providing a better guest experience. Platforms like Enso Connect offer upsells like early check-in, late checkout, and mid-stay cleaning. They also allow for the promotion of local experiences, adding a personal touch to the guest interactions and stay.
Turning Negative Experience Around
Katrin emphasized the importance of being proactive. Using technology to spot potential issues early can help address them before they escalate. For instance, noise monitoring tools can alert hosts to potential disturbances before they become a problem for neighbors.
The discussion also touched on the importance of analyzing guest sentiment to address concerns proactively. Tools that provide sentiment analysis can help hosts identify unhappy guests and take corrective action before negative reviews are left.
The Future of Technology in Hospitality
Discussing the future of new technology in the hospitality business, the current trends focus on using data to enhance the guest experience. With tools like Minit and Jetstream, the aim is to automate mundane tasks, allowing businesses to personalize guest experiences. While technology aids operations, the human touch remains essential. For instance, while revenue management tools provide data, it's how businesses use this data that determines success. Centralizing information for specific teams is crucial, and tools like Notion help in this regard. However, each team might need its specialized tools for optimal workflow. The key is to ensure that the primary information a team member needs is centralized for efficiency.