As an Airbnb host, it is necessary to pay attention to every stage of the guest's journey, striving to deliver a positive guest experience.
One of the most critical and reviewed aspects of the guest's Airbnb stay is the check-in process.
Guests often have their first interaction with your Airbnb when checking into the property. The results can generate either a positive or negative feeling going into their short-term rental stay. When guests first arrive, their initial experience can create lasting memories, often influencing their review and the likelihood of them returning.
How to Improve The Airbnb Check-In Process
By communicating clearly and responding promptly, Airbnb hosts can help their guests start their journey feeling informed, valued, and prepared for their booking.
Explore below to learn how to perfect this initial touchpoint and leave lasting positive impressions on your guests.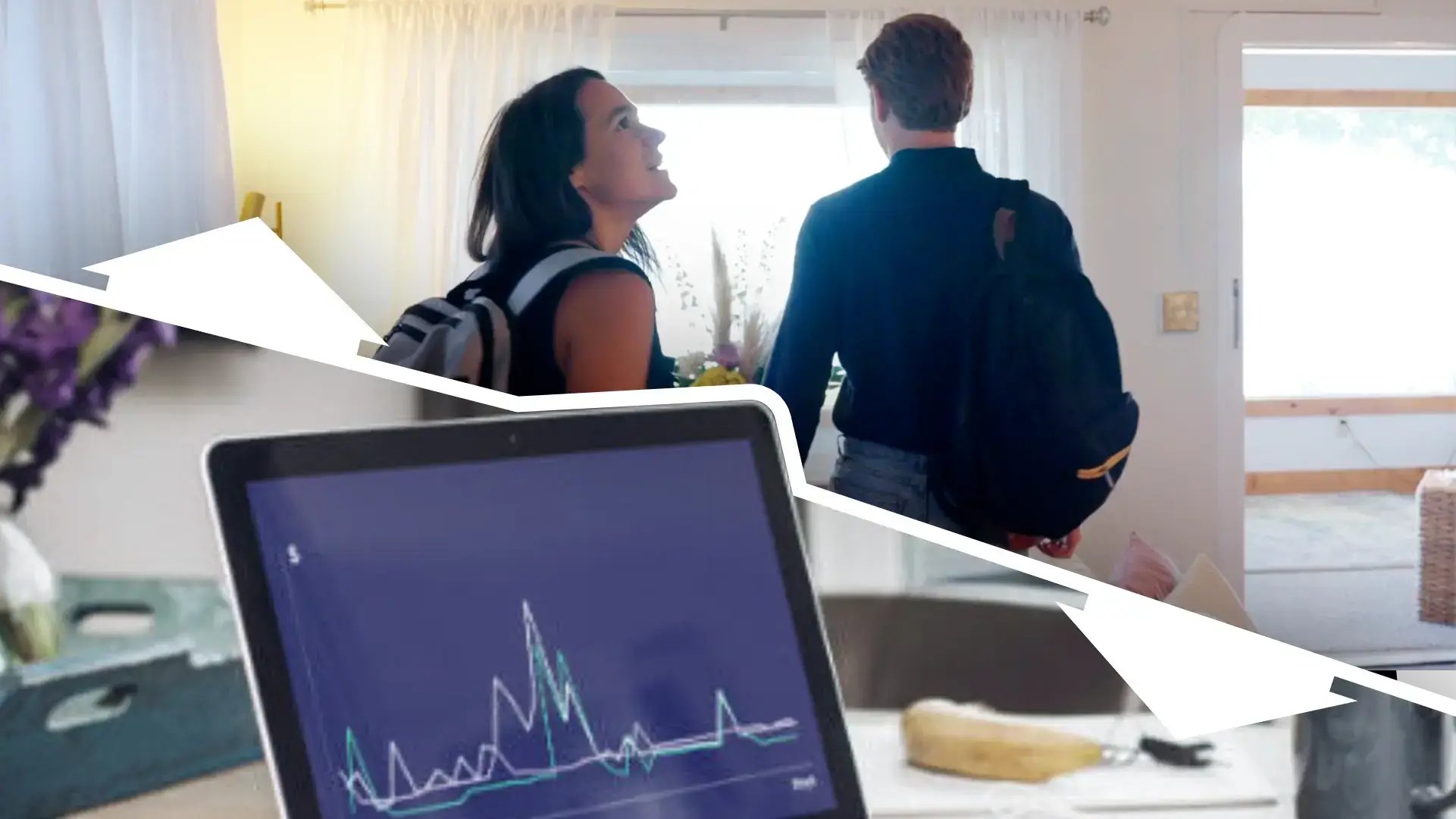 Why Having An Optimized Airbnb Check-In Process Is Important
A smooth check-in process creates a welcoming atmosphere for the guest, allowing them to start their visit with comfort and ease. Optimizing your Airbnb check-in for guests can result in positive reviews, and returning guests, and reduce any confusion. 
First Impressions Count: The process of checking in is often the guest's first interaction with your Airbnb property and can dictate the tone of the entire stay. 
Guest Feedback and Reviews: It is one of the major ways guests will review you as a host and your property. For instance, Airbnb will specifically prompt the guest to rate how their experience was with checking into the property. A seamless process can contribute to higher ratings and positive reviews, which in turn can attract more bookings. 
Building Trust: A well-organized check-in process demonstrates professionalism and attention to detail. It assures guests that they're in good hands, promoting trust and making them feel at home. 
Reducing Complications: A clear check-in minimizes confusion, reduces the likelihood of last-minute problems, and is hassle-free for both hosts and guests.
Safety and Security: A proper process allows only verified guests to access the property, which builds safety and security and maintains a safe environment.
Promote Repeat Business: Guests prefer when check-ins are seamless and streamlined. A positive initial interaction with the property increases the likelihood of guests making future bookings, fostering loyalty. 
Self Check-In: Considering most Airbnb's now use self check-in it is even more important to have a very streamlined and efficient process since you won't be available to walk them through it in person if they need assistance.
""Guests and hosts share a common goal: a positive and smooth guest experience. Your check-in process is the initial introduction to your property, subtly showing guests that they will have a stress-free stay. Travel can be stressful enough, so it's important to act as a supportive guide along their journey and make things easy for your guests. This effort can leave a lasting impression, potentially influencing a positive review."
Francois Gouelo, co-founder and CEO of Enso Connect
Understanding the Guest's Perspective
A great check-in starts with meticulous planning and understanding of the guest's needs. Detailed written instructions, supplemented with visuals, can drastically simplify the process for guests. You always want to make sure you maintain excellent guest communication, response time, and go the extra mile so your guest knows they have access to you if any issues should arise.
To create a memorable stay, you should understand this journey from the guest's perspective.
Guest's Journey from Booking to Arrival
Booking Confirmation

: After browsing various listings online, the guest makes a reservation at their chosen property.

Pre-Arrival Communication

: The guest receives check-in details and might have clarifications or special requests.

Travel to the Property

: The guest travels, which can sometimes be exhausting or stressful.

Arrival and Property Access

: Upon arrival, the guest gains entry, usually through key access, lockbox, or smart lock.
For vacation rental hosts, providing a seamless guest check-in begins long before the guest arrives at the rental. However, despite the excitement, potential barriers for guests exist. By recognizing and addressing these, you as an Airbnb host can greatly better the check-in experience.
Common Pain Points During Check-ins
Unclear Directions

: Guests may experience difficulty finding the property due to vague or missing instructions. Only give relevant information and detailed descriptions.

Access Issues

: There can be problems with accessing the key or using smart locks because of unclear instructions or malfunctioning equipment. Always have atleast one back up option, this could be a key lockbox, a friend, or a backdoor smartlock.

Immediate Property Concerns

: Arriving to find cleanliness or maintenance issues, like uncleaned rooms or malfunctioning amenities.

Lack of Immediate Support

: Guests may have trouble reaching the host for assistance while checking in.
Missing or Inaccurate Information: Not having details about WiFi access, local amenities, or house rules readily available upon arrival.
The Power of Pre-Arrival Communication
Every interaction with a guest presents an opportunity to enhance their stay. One of the key moments in the guest's journey is the period between booking and arrival. This is when trip anticipation is high, questions are coming up, and guests' expectations are set. 
During this time, communication should be both timely and clear, providing accurate information, building trust, setting expectations, and showing the guests that they are valued and understood.
Here are three main pre-arrival communication templates to get you started:
TEMPLATE: Booking Confirmed Message & Welcome Message Post-Booking
Hello [Guest Name],

Thank you for choosing our Airbnb for your stay! We're excited to host you at [Name and Address of Airbnb Property] from [Check-in Date] to [Check-out Date]. 

If there's anything specific you'd like to know or need in preparation for your trip, please don't hesitate to ask. We aim to make your visit memorable.

Warm regards,

[Your Name]
TEMPLATE: Detailed Check-In Instructions Message Template
Hi [Guest Name],

We're looking forward to your arrival on [Check-in Date]. Here are the detailed check-in instructions for [Name of Airbnb Property]:

Address: [Property Address]

Check-In Time: [Time]

Check-Out Time: [Time]

Key Collection: [e.g., "The key is in a lockbox by the front door. The code is 1234."]

Parking Information: [Details if applicable]

Wi-Fi Details: Network Name "[Name]" and Password "[Password]"

If you encounter any issues or have last-minute questions, please call or message at [Contact Information for Guest Support].

Safe travels,

[Your Name]
TEMPLATE: Reminder Message a Day Before Arrival
Hi [Guest Name],

Just a quick reminder about your check-in tomorrow at [Name and Address of Airbnb Property]. 

We've made sure everything is ready for your stay. Remember, check-in time is at [Time] and the Wi-Fi password is [Wi-Fi Password]. If you have any last-minute questions or need directions, feel free to reach out.

Safe journey and we can't wait to host you soon!

[Your Name]
Create A Step-by-Step Check-In Guide
A Step-by-Step Check-In Guide benefits both the guest and simplifies the hosting process. Click here for further instructions on how to add the guide to your Airbnb listing.
A check-in guide can:
Alleviate any guest anxiety or uncertainties, particularly if they're unfamiliar with the area or how Airbnb works.

Reduce the need for back-and-forth communication.

Set clear expectations.

Save time in the long run.

Award you with a good communication score.
Think About It From The Guest's Perspective
Imagine being a first-time visitor to the Airbnb property and placing yourself in their shoes. What would they see, feel, and need upon arrival? This will help anticipate their needs and potential pain points.
Start with Clear, Detailed Written Instructions
Begin from the point the guest arrives in the area (e.g., local landmarks, transit stops).

Provide detailed directions to the property from common entry points (airport, bus station, train station).

If applicable, include details about parking.

Specify how to access the property (e.g., gate codes, key locations).
Incorporate Visuals
Some guests might be visual learners, while others prefer reading. By providing both written and visual instructions, you can cater to different guest preferences and give them a clear understanding of the check-in process.
Photos

: Take clear photos during the day of the entrance, lockbox, parking area, and any other main points.

Diagrams

: If there are complex steps (like multiple switches or settings), consider simple diagrams to illustrate the process.
Introduce Digital Walkthroughs
Consider recording a walkthrough video, starting from the main entrance to the property's interior. This can be particularly helpful for larger properties or those with multiple access points.

Use annotations or voiceovers in the video to explain specific steps. Use closed captioning if applicable.

Make sure the video is easily accessible, either via a link or a QR code.
Highlight Safety Measures
Indicate where emergency exits are located.

Point out the location of fire extinguishers, first aid kits, and other safety equipment.

Provide emergency contact numbers.
Wi-Fi Details
This is one of the most sought-after details by guests. Always provide the Wi-Fi name and password clearly in your guide.
Local Insights
While primarily a check-in guide, adding a few local amenities, like the nearest grocery store, pharmacy, or restaurant, can be a valuable addition for guests upon arrival.
Feedback Loop
After the guest's reservation, ask for feedback on how they found checking in. Was there anything they found confusing or felt was missing? Use this feedback to continually refine your guide.
Update Regularly
Keep updating your guide accordingly. This could be when there's an updated lock system, the property's building is undergoing renovations, and even when local transit routes change.
Integrate with Technology
Consider using platforms like Enso Connect to easily create and streamline the detailed guide. Such platforms can automate communications, send out the check-in guide to guests just before their arrival, and even answer any check-in-related queries in real time.
""Enso Connect makes guest check-ins and arrivals much more passive for us. Instead of sending our guests to look back for the information in their emails, we create marketing campaigns where they are receiving these messages in succession when they book and a couple days before check-in and the morning of arrival. We communicate with guests via email, texts and Airbnb messages."
Mark Biesack, Founder of Powerhouse Properties & Airbnb SUPERHOST
Enso Connect: Solving Your Check-In Pain Points
Enso Connect simplifies the check-in process, making guest arrivals smooth and easy. With a user-friendly platform, hosts can tackle check-in challenges and improve guest experiences.
Automated and Personalized Check-In Messages
No more having to manually send check-in instructions to every guest. Enso Connect uses AI to send automated messages tailored to each guest, ensuring they have all the information they need before their arrival.
Streamlined Guest Transition from Booking to Check-In
From the moment a guest books your property, Enso Connect takes over the communication, guiding them step-by-step through the check-in, ensuring no detail is overlooked.
Optimizing with AI-Driven Solutions
Enso Connect uses advanced AI algorithms to optimize check-in procedures and continuously learn and adapt based on guest feedback and changing circumstances.
Real-Time Support with Integrated Chatbots
Questions don't always arise within business hours. Enso Connect's chatbot provides guests with real-time answers to their inquiries.
Guest Verification and Smart Locks
With Enso Connect, hosts can have peace of mind with advanced guest verification procedures and smart lock integrations. Guests receive secure access codes, ensuring both their safety and the security of your property.
Interactive Digital Property Guidebooks
You can create rich, interactive digital guidebooks for guests. Build a comprehensive tool that provides necessary information for guests with the property, local tips, safety guidelines, and more.
Watch how to launch your vacation rental listings in a snap using Enso Connect and Enso AI.
Use A Keyless Entry System
Keyless entry systems can upgrade the process of checking in to Airbnb with their efficiency alone.
Eliminate Physical Key Exchanges

: Hosts don't need to coordinate with the guest or a third party to receive keys.

Enhance Security

: Unique access codes can be generated for each guest. Once their trip is over, the codes can be changed or deactivated.

Streamline Operations

: Hosts can manage access remotely, enabling them to oversee multiple properties with ease.
Always ensure a backup method is in place should technology fail. Many keyless systems come with:
Backup Key Access

: There's often a traditional key slot as a failsafe.

Battery Alerts

: Hosts are notified if batteries are low to avoid lockouts.
Manual Overriding Systems: Some advanced locks have mechanisms to manually override the system in emergencies.
Give A Welcome Pack/Basket
A welcoming gift symbolizes hospitality and makes guests feel at home, making guests feel more at home and appreciated, which can lead to better reviews and higher chances of repeat bookings.
Creates a Positive Interaction
When guests arrive after a potentially tiring journey, a thoughtful welcome basket immediately makes them feel valued and cared for.
Provides Essential Items
Depending on what's included, a welcome pack can offer guests essential items they might have forgotten, like toiletries or snacks.
Promotes Local Businesses
If you include local goods or services, you can support local businesses and also introduce guests to the local culture or flavours.
Add Personalization
Tailoring the basket based on guest preferences or reasons for travelling (like a honeymoon or business trip) can make guests feel welcome and appreciated. 
Facilitates Communication
A welcome note in the basket can provide important information or personal recommendations, acting as an icebreaker and initiating communication between the host and guest.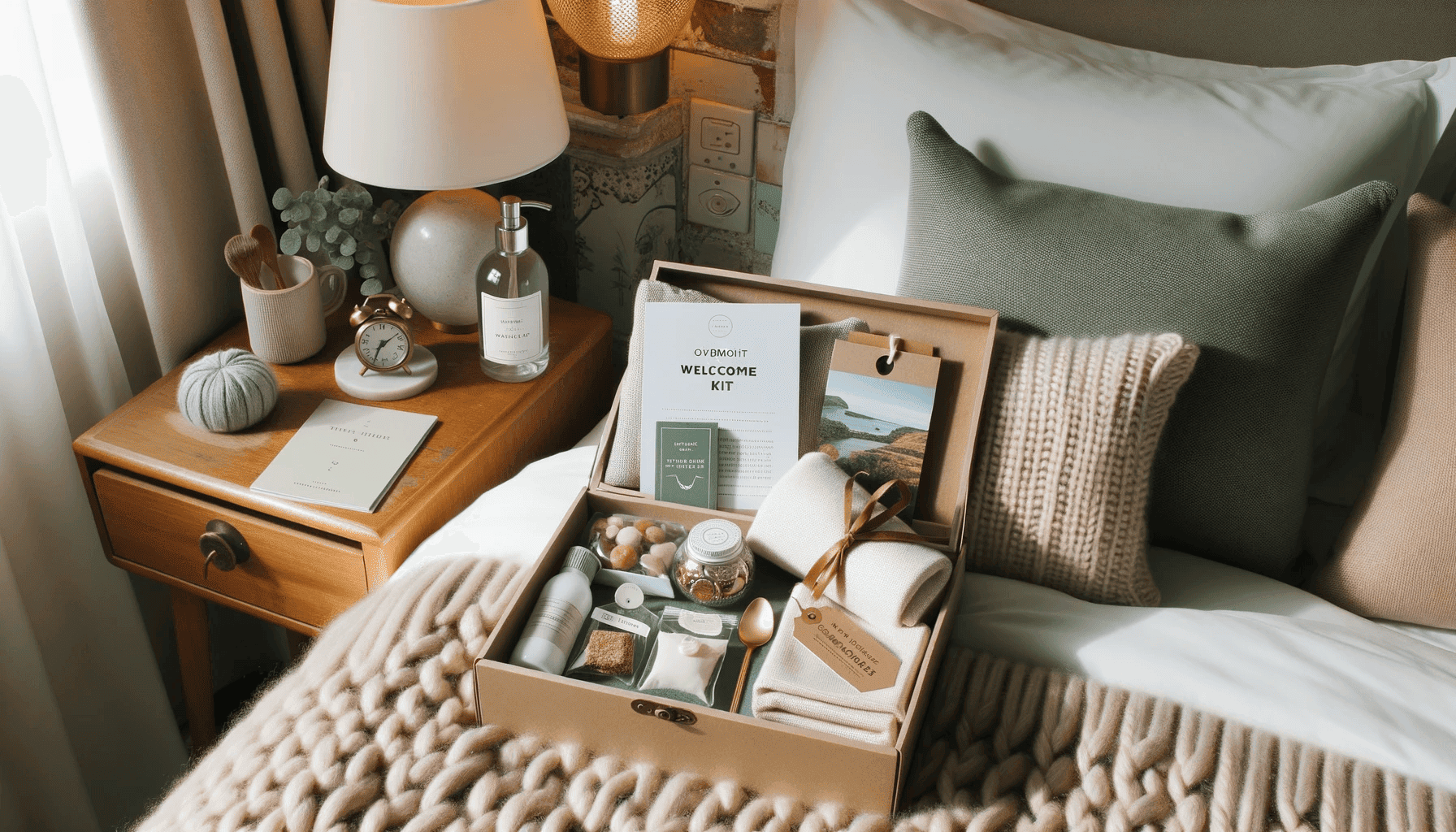 5 Benefits Of A Feedback Loop
Encouraging guests to share feedback on their check-in experience is necessary for hosts to offer the best stay possible. A feedback loop helps hosts improve the check-in process.
Continuous Improvement

: By actively seeking and receiving feedback from guests, hosts can identify areas of check-in that may need refinement. You can help make sure that each guest has a better stay than the last.

Builds Trust

: Demonstrating to guests that their feedback is valued and acted upon develops trust. Guests feel more confident in their choice of booking, knowing the host is committed to providing the best experience possible.

Immediate Resolutions

: If a guest faces an issue while checking in and it's communicated promptly, the host can take swift action to address it. This not only resolves the immediate concern but also prevents future guests from facing the same challenge.

Enhances Guest Satisfaction

: By making tweaks based on genuine guest feedback, hosts can increase overall guest satisfaction. 

Reduces Negative Reviews

: Addressing concerns proactively, especially during the check-in phase, can reduce the likelihood of guests leaving negative reviews. By making adjustments based on feedback, hosts can mitigate potential points of contention.
Frequently asked questions
How Enso Connect Can Help
By optimizing pre-arrival communication, providing comprehensive check-in guides, and integrating technological solutions like Enso Connect, hosts can make this process as seamless as possible for themselves and the guests.

Tools like Enso Connect add an extra layer of convenience, automating the check-in process and addressing the pain points. Give Enso Connect a try and make every first impression count.
Learn more or book a demo today!
Discover the power of Enso Connect's innovative software solutions and unlock the full revenue potential of your vacation rental today!
TALK TO OUR TEAM